Classic: Bid Limits
Q: What are bid limits?
A: Bid Limits is a feature that LiveAuctioneers is using that will limit your bidders to a spend up to a specified amount. Bid limits do not impact your current approval flow unless you would like to start using them.
Q. How can I set bid limits for my bidders?
A. You can set bid limits for your bidders on a Global Level (all bidders who have registered for your auction) or an Individual Level.
Globally - If you would like to globally approve your bidders and set bid limits on them, you will first need to go to the 'Bidders' tab on your sellers dashboard:

Select 'Global Approval with Bid Limit':

At the bottom of the list, set your desired 'Bid Limit' amount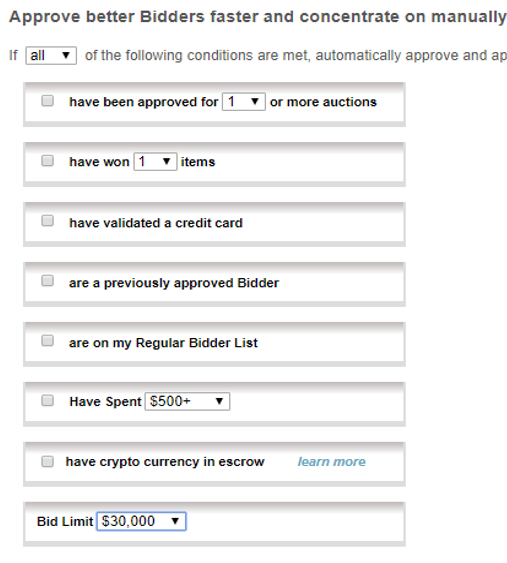 Note: You can choose whether or not to globally approve your bidders whether they meet ANY or ALL conditions.
Once you have set a bid limit, press 'Save Criteria'. Bidders will only have the ability to bid up to the selected amount.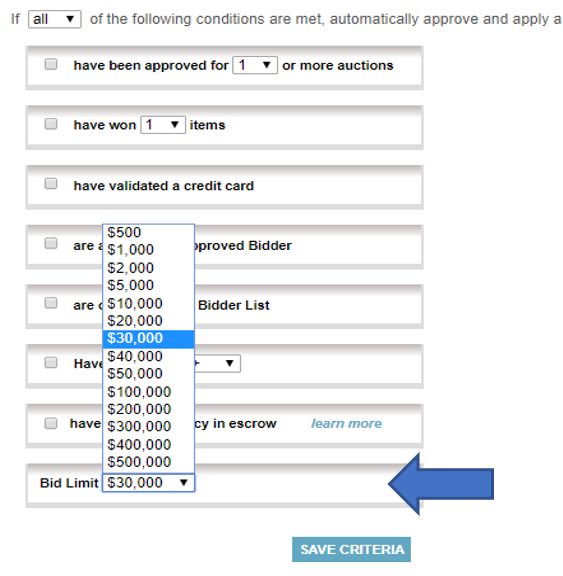 Note: All bidders who have limits placed, will appear in your 'Approval Limited' category.
Individually - If you would like to approve your bidders individually, start by going to the bidder approval section of the auction catalog.
Check the box 'Limit to' next to the bidder's name to activate bid limits.
Choose the amount you would like to limit the bidder
Click 'Approve' which will move the bidder to the 'Approved Limited' category.
Sellers with bid limiting access can now approve bidders with limits right from the bidder profile. Previously this feature was only available from the approval list view - so sellers couldn't get the approval process completed by navigating through bidder profiles. Now they have the same stats, and the same functions, across both pages.
Q. Can I place a bid limit on a bidder that has already been approved?

A. Yes. Just follow the same steps as you would when you are approving an individual bidder.
Q. Can I increase/decrease the limit I have placed on a bidder?
A. Yes. You can increase/decrease the limit you have placed on a bidder, by going into the 'Approved Limited' in your 'Bidders' tab. Once you have located the bidder, click the drop-down menu and select the new limit you would like to place on that bidder. After you have chosen the new amount, click 'Update Limit' to update the limit you have placed on that bidder for your upcoming auction.
Q. How will the bidder know that there is a bidding limit placed on their account for the sale?
A. If the bidder has a limit placed for this sale, the bidder will be notified via LiveAuctioneers' notifications or by email.