How can I stop the auction in case an intermission is needed?
Our "Auction Paused" feature keeps bidders informed of what's happening live when you need to take a break.
To pause your auction, click the Settings button at the lower-left corner, click the End Auction tab, and click the Pause button.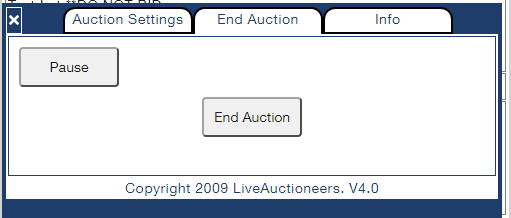 While your auction is paused, bidders will see Auction Paused messages across LiveAuctioneers - whether they're watching live or looking at items in your catalog on the website and apps. Bidders will still be able to absentee bid, browse the catalog, and register as usual - but they won't be able to place bids on the current item while you're paused. We'll also show bidders this paused state if there are technical issues during your auction.
If you typically use messages to let bidders know you're taking a break, we encourage you to use the Pause button in Settings as well, since it will publish your update in more places, more visibly for bidders